Aligning production with genetic potential has transformed a 400kg milk solid (MS) average into 600kg MS for South Taranaki dairy couple Donovan Croot and Sophie Cookson. And they are pushing towards a 700kg MS average this season.
The young couple is sharemilking 190 cows on 91 hectares (which includes a 30ha run-off 1.5km up the road) at Manutahi. Together with their three children – Estelle, 6, Penelope, 4, and Thomas, 2 – this family is today a pin-up for Xero accounting software.
Sliding doors
However, Donovan's story could have taken a very different turn.
He wasn't reared on a dairy farm, and while his upbringing in the semi-rural Manawatu was uneventful, his hard-working parents set a great example. But Donovan eventually headed to Auckland, where he started running with an addictive lifestyle and poor choices that became destructive and – at times – illegal.
"It turned my world upside down," he said.
At 22, he voluntarily submitted to three months of residential rehabilitation. As he exited the centre, his uncle – who was a dairy farmer – found him an opportunity as a dairy apprentice in the Taranaki. He didn't have to be asked twice.
"I shifted down here with a suitcase and a shitty old car," Donovan said. "I started right at the bottom, coming out of the city with absolutely next-to-no experience outside of staying at my uncle's [place] in the school holidays."
It put Donovan on a career path that would change his life. As he teamed up with Sophie, together young couple set their sights high and began putting in the hard work.
"I feel very lucky. I'd say that 80% of the people I was kicking around with during that difficult stretch are still caught in that rut, or they've gone to jail, or they've passed away. I just feel so very fortunate that I got out of it … because not many do."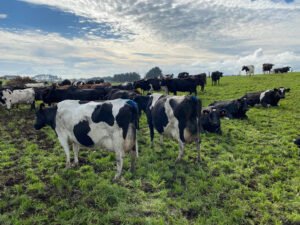 Production is heading towards 700kg MS this season.
Management within three seasons
By his third season, Donovan was managing a big corporate farm and did an agribusiness diploma while he was working his way up the ranks. Sophie – an animal lover who Donovan describes as his "absolute rock" – did her vet nursing diploma in Otago and worked for a few years for the Coastal Veterinary Services in Kaponga. Last year she joined an AI run (76%), and this season she will establish her own AI run.
People who build from a standing start always have a moment in time where someone gives them a leg up at a game-changing time.
That happened in Donovan's fourth year when the couple went contract milking for three years with Bruce and Honey Grindlay. The Grindlays allowed them to rear their surplus heifers on-farm, and to then lease them out. It helped grow Donovan and Sophie's equity.
Donovan said, "That is what sort of allowed us to consider sharemilking, because we owned 80 cows ranging from yearlings through to in-milk cows by that time."
Exciting genetics
They both considered it a worthy investment to buy cows from established profile herds and then build on those bloodlines.
To that end, their herd – under the Clovalley prefix – includes 100 head from the registered and former top BW and production herd in the country, Waiau Trust Holstein Friesians, and Taramont Crossbreds (which continues to supply bulls for AI). Both entities were the lifework of Jim and Sue Webster, from North Taranaki.
Donovan said they were able to buy Jim and Sue's cows by selling the bottom end of their herd to the South Island as Mycobacterium bovis replacements.
"We ended up borrowing about half the money we needed to buy the balance to bring us to 220 cows and the equipment. Our first position in North Taranaki wasn't great. But we learned a lot about resilience, and we grew a lot during that time because of that," Donovan said.
"Plus, we made some great friends up there that we're still very close to. We also met Jim and Sue [Webster] up there, who we bought the herd off when we came down here."
Donovan and Sophie consider themselves "very lucky" to be in their current position with Neil and Helen Walker, after a tip-off from a consultant. The property had been under the same management for 35 years, its self-contained and has a modern 30-a-side herringbone.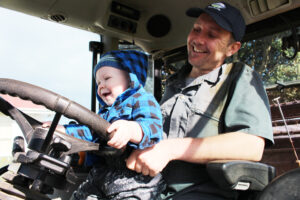 Donovan Croot gives son Thomas a feel of being in control. Photo: Rebecca Inns.
Production focus and technical advice
Donovan said their next goal was to get the production out of the genetics.
In their first season they didn't feed grain, relying on grass, silage and limited palm kernel (PK) through the drought. It yielded a 400kg MS per cow average production, which was a record for the property at a total MS of 83,000kg; the previous best was 55,000kg MS under different management.
Last season they produced 112,000kg MS (600kg MS a cow).
To bridge that gap they employed MilkMaP's senior farm business consultant Rensinus Schipper, who they met through Jim Webster. Rensinus helps with their annual financial targets – including setting up their annual budget for milk yield, crop selection, pasture growth, supplement selection, usage and cost. He also helps with how they manage their stocking rates to achieve their profit targets.
The long-game includes achieving great growth rates on their young stock, thus lifting the feed efficiency in their first lactation, and increasing their potential longevity in the herd.
They also added software CowManager (which measures ear-temperature, activity, rumination, eating and resting time).
Donovan said: "We decided we wanted to push the system. We wanted to break records, and if we were going to spend a lot of money on concentrate feeds, we wanted to do it properly, and get it right.
"Neil and Helen [Walker] have a green ethos, which we're aligned with as well, so we wanted to move away from PK feeding as much as we could. We feed some, but it's only one quarter of our total concentrates."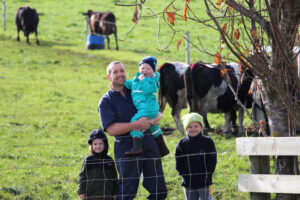 Thomas (in Donovan's arms) and Estelle love being out on the farm. Photo: Rebecca Inns.
Challenging their thinking
Their other concentrates include maize grain, canola meal, tapioca, distiller's grain, soy meal, soy hulls, vitamins and minerals. Their stocking rate is 3.1 with the goal of milking less cows and expecting more of them.
"Rensinus has definitely challenged our thinking and our theories a lot. We do things a lot differently now that we have him on board," Donovan said.
"We are much more in tune with what our cows want and need. It's early days yet, but I'm hoping to see improvements in our business performance as well, so we will have happy cows and happy people. Every time Rensinus comes to see us, he sees something new. He's definitely a key part of our business nowadays."
Donovan said their animal health and reproduction had initially been compromised in the chase for production. However, this year there has been a dramatic improvement and they are transitioning through calving much better.
"We can build on things year-on-year. Our production target this year is 120,000kg MS – that's 630kg per cow – but I'd love to get to 700. That would be the ultimate for us."
The herd is a mix of crossbred and Holstein Friesian with some Jerseys. They are proactively now breeding the herd back to Holstein Friesian.
"We don't enjoy looking at the Jerseys in the paddock as much, and they just don't have that lovely temperament that we love about the Friesian. Sophie is also very much into conformation, and she looks at each cow as an individual.
"We're just starting our breeding journey, but we have sold some bulls into AI companies and there is such demand for the crossbreds. We hope to get to a stage we can diversify our income to include elite genetics."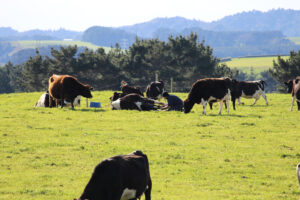 Donovan Croot helps a young cow calve.
End-game
Donovan and Sophie have now employed their first staff member, Tomás Comunello.
But the total endgame remains simple.
"Farm and land ownership and a place to call our own. We are always looking for new opportunities," Donovan said.
"I think since COVID-19, it's become more important to have your home, your security and somewhere for your family to fall back on."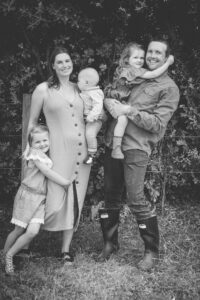 L-R Estelle, 6, Sophie Cookson, Thomas, 2, Penelope, 4, and Donovan Croot. Photo: Rebecca Inns.