We offer effective dairy solutions to optimise farm profitability.
Our services include:
We provide accurate budgeting, planning, live monitoring and management
Poor reproductive performance
Expert nutrition management
Poor returns on capital investment
Knowledge of the industry and its key profit drivers
Creating a workable budget
Sound strategic and financial planning
Optimising performance and maximising profit potential
Declining milk production & poor animal health?
Herd monitoring and body condition scoring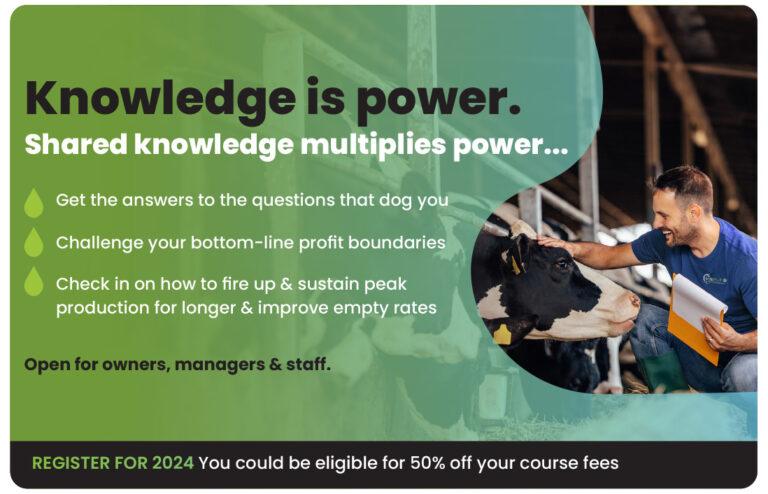 Dairymasters™ Training Course
Over two days you will learn to be a Dairymaster. You will experience a hands-on training programme that provides technical training in pasture management, herd management and profitable dairy cow feeding strategies.
What our clients have to say
"Grazing 120 has made us 10 % more milk. With less work and more efficient use of supplements our consultant gives great support and training to our Staff to make the grazing 120 strategy successful.
Grazing 120 is the future and will add value to the bottom line no matter what farm system you run."
Kiwidutch Dairies – Northern Southland.
"We started using MilkMap Consulting at the start of 2018 after seeing the results they were achieving with other local farmers. Since working with MilkMap we have implemented the Grazing120 system. It suits our farm well and is an easy system for our team to get their head around with goal being to have our cows fully fed every hour of the day. We milk 750 cows and since changing to the Grazing120 system and following MilkMap's advice and solutions we have lifted production on our farm by 100,000 kg MS. Our target for this year is 420,000 kg MS – 560 per cow. Even after 3 years using MilkMap and the Grazing120 system we still get value from the visits while always spotting or tweaking something. We find it very valuable having an external 'sounding board' someone to run ideas past as we continually re-evaluate what we are doing. Grazing120 is the base of what we do but with MilkMap's guidance we have adapted it to our system and continue to makes changes as recommended. We are more than happy to recommend MilkMap and the Grazing120 system as we have found the changes we have made to our business invaluable."
Lyndon & Anthea Duff – Ardel Dairies Ltd – Northern Southland.
"MilkMap Consulting's benchmarking has helped our business to understand the areas that we are performing well in and highlights what we need to work on. Being able to compare against similar farms following the same philosophy has helped us to improve our overall profitability."
John Greenslade – Lincoln.
"Financial Benchmarking has helped us to identify the true profit drivers for our business. The MilkMap report is customised for our farming operation ensuring we can put the spotlight on areas we know will deliver a good return."
Richard Searle – TSM Farms, Masterton.
"We have really benefited from the continuous monitoring and analysis. Our cost of production has remained very low through the low milk price, which has been vital to the sustainability of our business."
Lange Partnership, Ged & Fleur Lange,Kowhitirangi, West Coast.​
"Regular farm visits gives us confidence in our decision making. Good planning and continuous monitoring are helping us to achieve our targets while regular analysis of our cost structure gives us confidence that we are on the right track"
4 The Girls Dairies Ltd – Niels & Jodie Modde, Balfour, Southland.​
"After completing the DairyMasters course, with the continual support from Andrew and the team at MilkMaP™ Consulting, we have been able to increase per-cow production and farm performance through better feed conversion efficiency and have made improvements in animal health and fertility."
Tavistock Dairy Ltd – Terrence & Sonya Sullivan – Otaio, South Canterbury.​
"We have used MilkMaP™ for our feed consultancy for the past four seasons with great success. Andrew has done a tremendous job of boosting our production while balancing profitability and ensuring good herd health. Our consultations are always a pleasure to have and he always shows commitment and enthusiasm to the work. Time is taken to make sure he understands our goals and that he educates us on different ways to achieve these goals so we can find the best course of action. We have had an increase in production every year we have used these consultancy services."
Belbrook Farming Ltd – John & Robbie Wakelin – Rangiora, Canterbury.​
"Production is key to profit and without the knowledge from Dairymasters potentials cannot be achieved."
Kenton Sinclair-Donnelly – Ashburton
"We have been working with Andrew and the MilkMap team for just over a year and have found him to be knowledgeable and professional. Andrew brings an extra dimension to our farming business which has helped challenge our thinking. The results speak for themselves – 4% increase in 6w IC rate, 3% decrease in empty rate, farm record production while maintaining good cost control. We look forward to continuing our relationship with Andrew and the MilkMap Team and seeing what we can achieve in the 2020/21 season together."
Shaun and Monica Mattushek, Pareka Farm
It was after attending the Dairy Master Program, run by MilkMap Ltd, that we employed their consultant, Cameron Burton. We were already accustomed to using an advisor for our farming business, so feel that we are experienced enough to know that Cameron adds value to our farming business.
Attempting to run a dairy farm and best utilize the sources available, while coordinating the many facets involved in profitable feeding is quite a task and Cameron brings clarity to the situation.
Our consults with him allow us to plan for and achieve the results we want.
The 10 Day Milk Production Reports we find beneficial as if any of the KPI's are outside of their parameters, Cameron is very proactive in texting/emailing us to know what is going on and then we can discuss adjustments to compensate for any climatic changes that were not budgeted for in his last visit.
Cameron will work with the resources that you have available; this is best demonstrated by the fact that he is employed over three different family farms with different systems and environments.
Susan & Spencer White, AgCulture Ltd
"The production has increased from 500 to 600 milk solids per cow, fertility and animal health is much better. It is helpful to do the sums on the economy of production to determine the returns. Outside eyes provide a better objective benchmark on production and body condition. It is helpful to get new/fresh ideas to challenge things done in the past. Making the system more efficient and perform better. It is good to have somebody to phone up and get quick access to advice and answers. So many things a farmer has to do (compliance), can't expect a farmer to be an expert in all these fields."
Colin Rose / James Pelham – Waikato.
"We are taking more time in making more informed decisions. Analysing herd test data, body condition score assessments, feed quality analysis and doing regular farm walks gives us vital information to help make good decisions. Having someone else monitoring our milk production on a daily basis also gives us confidence that things are going well."
Winfield Farm Ltd – John & Linda Riordan, Hokonui, Southland.
"We have been using MilkMaP™ Consulting for five years and have found their support and knowledge valuable through the trying seasons we have had recently. We started with improving our transitional feeding pre-calving and saw an immediate improvement in our cows, both before and after calving. It has been great for us while developing our business to have support from our consultant in looking for new ideas and ways to maximise our profitability."
Cresslands Farms Ltd – Andrew Stewart – Rangiora, Canterbury.​